Ranger

Anton Bachleda Jr.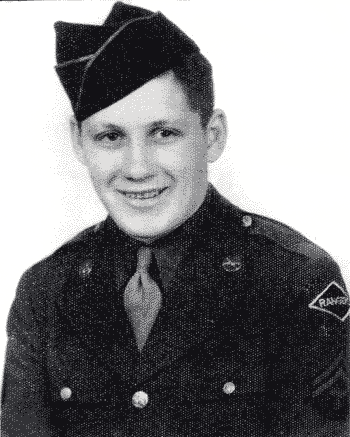 Born: 26 August 1923, Czechoslovakia
Died: 22 January 1976, East Hampton, Middlesex County, Connecticut, United States of America
Army Serial Number: 32808036
Ranger Battalion/Company: 2E
Rank: Cpl
Enlisted:
Battles/Campaigns/Significants: D-Day Normandy, POW - Stalag 4F + Work Camps Hartmannsdorf-Chemnitz Saxony 51-12
Medals/Awards: Purple Heart and the Bronze Star for his action in the invasion on D-Day.
My name is Steven Bachleda, my brother, Anton Bachleda, was a member of Company .E, of the 2nd Ranger Battalion who scaled the cliffs at Pointe Du Hoc on June 6, 1944.
Born in Czechoslovakia, we immigrated to America, arriving in New York City on February 17th 1939, just two weeks before Germany invaded Czechoslovakia.
My brother was drafted in 1943 into the U.S. Army. After Basic Training, he volunteered to join the Rangers. After some Ranger training in the States, his outfit was sent to England where they did some intensive cliff climbing and additional training for their mission on D-Day.
A few weeks after D-Day we received a telegram from the U.S. Army stating that Anton Bachleda was seriously wounded. A few weeks later, we received another telegram indicating that he was missing in action. In September of 1944 we received a letter from Anton through the Red Cross saying that he was wounded and had been taken prisoner by the Germans, but that he was okay.
He was a prisoner for about a year until his camp was liberated by the Russian Army at war's end. He was awarded the Purple Heart and the Bronze Star for his action in the invasion on D-Day.
He said that he made it up the cliffs and his Company was able to proceed inland for a couple of days. Then the Germans counterattacked and he was wounded by a mortar shell and taken prisoner by a bayonet pointed at his neck, but not before he was able to shoot a few of the enemy with his sub machine gun.
Anton made the Army his career and was stationed in Germany where he married a German girl and had a son, Bernd, who joined the 101st airborne. Bernd was killed at the battle of Khe San, during the Vietnam War on his 21st birthday.
Anton came stateside and was stationed in different camps until he became the Regular Army NCO at the 7th Regiment National Guard Armory in New York City where he served until his retirement from the service after 28 years as a Sergeant Major.
He passed away in 1976 at the age of 52.
Submitted May 2005 by the brother of Ranger Anton Bachleda
Steven Bachleda