Ranger

Alvin D. Ezzell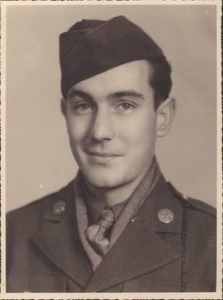 Born: 6 Jun 1921, Taylor, Williamson County, Texas, USA
Died: 17 May 2017
Army Serial Number: 20801460
Ranger Battalion/Company: 1HQ, 3HQ, 4HQ
Rank: T/5
Enlisted: 25 Nov 1940, San Antonio Texas
Battles/Campaigns/Significants:
Medals/Awards: bronze star, purple heart, good conduct medal, combat infantry badge, prisoner of war medal, distinguished unit badge, 7 overseas bars, army aviation badges, air medal with cluster and senior army aviation badge,
Obituary
EZZELL, Alvin D. "Pop" In Loving Memory of Alvin Daniel Ezzell June 6, 1921 May 17, 2017 Retired U.S. Army "Rangers Lead the Way" 95, of Round Rock, Texas, passed away Wednesday May 17, 2017. He was born in Taylor, Texas, on June 6, 1921, to Edna Mae Wood and Ralph Taylor Ezzell. He spent his early childhood in Taylor and then moved to San Antonio, Texas in his early teenage years where he lived with his Aunt Ree and Uncle Charlie Herbert and later graduated from Brackenridge High School in 1939. After high school, he joined the Texas National Guard, 141st infantry, 36th division, where he began a decorated 22 year career in the U.S. Army. On October 18, 1941, he married Virginia Adams, the love of his life. They were blessed with nearly 73 wonderful years together in marriage.
In May of 1942, he volunteered for overseas service and he was stationed in London, England, in the Inspector General's Office. On December 7, 1942, his daughter Bonnie Gay Ezzell was born while he was overseas serving our country; meeting her for the first time after World War II (WWII) ended in 1945. In June of 1942, he became restless with his office job and once again volunteered to further serve our great country and applied for Army Ranger training in Dundee, Scotland which was vigorous training by the British Commandos. After graduation from Ranger training, he became a member of the elite fighting force known as the Darby's Rangers, commanded by Colonel William Orlando Darby. He was a proud member of both the 1st and 3rd Ranger Battalions of WWII. From August of 1942 January of 1944, he participated in numerous battles, invasions and raids throughout North Africa, France, and Italy. On January 30, 1944, after the invasion at Anzio, Italy, he was captured by German forces and was a prisoner of war for nearly seventeen months. He returned to the "Good Ole USA" in 1945 after being liberated.
In 1950, he volunteered for the U.S. Army's first helicopter pilot training at Fort Sill, Oklahoma. In November of 1951, he once again volunteered for service and went overseas to Korea as a cargo helicopter pilot flying numerous missions over his sixteen months tour of duty in Korea. He later became a helicopter flight instructor and later Chief of Flight Operations at Camp Wolters in Minerals Wells, Texas. In July of 1963, Alvin retired from active service as a Chief Warrant Officer III. He was a proud recipient of many decorations, medals, citations and ribbons, including the bronze star, purple heart, good conduct medal, combat infantry badge, distinguished unit badge, 7 overseas bars, army aviation badges, air medal with cluster and senior army aviation badge, to name just a few. He was proud of his service to our country and was equally proud to be a member of the Darby's Rangers. "Rangers Lead the Way" was the motto by which he lived his long and blessed servient life.
After his military career, Pop worked for the Texas Highway Department for over 10 years in Johnson City, Texas. After retirement, he stayed busy either ginning cotton in Williamson, County Texas or assisting shearing mohair in Uvalde, Texas at the Stone Ranch. He was an amazing husband, father, grandfather, great grandfather, brother, uncle and friend to many. He was a diehard University of Texas Longhorn fan and was a season football ticket holder for many years; he bled burnt orange and had many great memories attending games with family and friends. He enjoyed hunting with his son-in-law and grandsons and had many great memories fishing on the Rio Grande with his life-long buddies. He was an avid gardener and enjoyed being outdoors doing just about anything. He also enjoyed traveling in his RV with his wife Virginia spending time at the Texas coast or just about anywhere in the beautiful Texas Hill Country. He and Virginia also enjoyed many wonderful years boating, fishing and living on Lake LBJ. Pop, thank you for all of the wonderful memories and times together and your dedicated sacrifice and service to our country. You're a true American hero and a chartered member of the greatest generation that will be missed by all who knew you. We are grateful for the nearly 96 years of your life and hope you can now rest in eternal peace as you enter God's kingdom. As you would say, "Here's to it and to it again and if we ever get to it, we will do it again." He is preceded in death by his wife Virginia Ezzell, his daughter Bonnie Jehl and his son-in-law Carl Jehl, Sr. He is survived by his grandchildren, Carl Jehl, Jr. and Robin Branham, Chuck and Marilyn Jehl, Rick and Tina Jehl, his great grandchildren, Jake, Jared, Hunter, Taylor, Jason and Jaxon Jehl, his sisters Peggy Massey and Joy Welsh and his extended family, Jack and Susan Stone.
The family would like to thank the staff at Wyoming Springs assisted living for all of the wonderful care and love for Pop over the years and would also like to thank the team at Accolade Hospice for the incredible care and service to him over the past few months. Funeral services will be held at Beck Funeral Home in Round Rock, Texas on Monday May 22, 2017 at 10:00 a.m. Visitation will be held prior to the funeral services from 9:00 10:00. Arrangements under the care of Beck Funeral Home, located on Highway 620 - 512-244-3772.
Published in Austin American-Statesman on May 21, 2017