Ranger

Aldus P. Kreider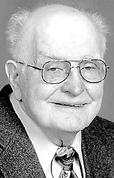 Born: 24 March 1924, Lancaster, Lancaster County, Pennsylvania, USA
Died: 1 February 2012, Lancaster, Lancaster County, Pennsylvania, United States of America
Army Serial Number: 33501061
Ranger Battalion/Company: 5D
Rank: SGT
Enlisted: 15 February 1943, Harrisburg pennsylvania
Battles/Campaigns/Significants:
Medals/Awards: 2 Purple Hearts
Obituary
Aldus P. Kreider, 87, of Lancaster, died on Wednesday, February 1, 2012 at the Mennonite Home. He was born March 24, 1924 in Lancaster, the son of the late Aldus and Leota (Coble) Kreider and was the husband of Marian (Bender) Kreider for the past 63 years. He was a retired carpenter for most of his life working for various construction companies as a building contractor in and around the Lancaster area. He also built and operated the Sun Valley Campground in Bowmansville for 10 years. Aldus served as a ranger in the US Army during WWII having attained the rank of Sergeant and received two Purple Hearts. He was a member of Lancaster First Church of God for 63 years and enjoyed gardening, golf, pool playing and woodworking.
He is survived by his wife, Marian; his son, Jeffrey married to Juanita (Gonzalez) Kreider of Terre Hill; his daughter, Kathy A. Hoopes of Lancaster; two brothers, E. Glen Kreider of Manheim, and Mervin married to Janet Kreider of Conestoga; five sisters, Geneva Bleacher, Frances married to John Gamber and Earla married to Ronald Dieter, all of Lancaster, Viola married to Clifford Herr of Willow Street and Patricia married to F. Abram Rhoads of Strasburg. He will be sadly missed by his granddaughter, Jennifer Braun; his grandsons, Joseph, Clayton, and Jeffrey Kreider; and his great grandson, Jaxon Tyler Kreider. He was preceded in death by brothers, Preston and Nelson, and sisters, Janeth Wissler, Edith Miller, and Rosalie Smith.
Funeral services will be held on Monday, February 6, 2012 at 11 AM from Lancaster First Church of God, 344 West Chestnut Street, Lancaster, PA. Burial with military honors accorded by the Red Rose Veterans Honor Guard will be in the Riverview Burial Park following the service. A viewing will be at Lancaster First Church of God, on Monday from 10 to 11 AM. The family requests that, in lieu of flowers, contributions in Aldus' memory may be made to Hospice of Lancaster County or to Lancaster First Church of God.