Ranger

Albert S. Sanders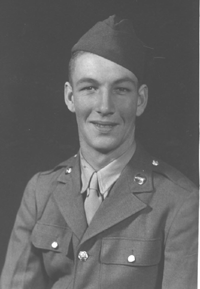 Born:
Died:
Army Serial Number:
Ranger Battalion/Company:
Rank:
Enlisted:
Battles/Campaigns/Significants:
Medals/Awards:
Albert Sanders was a Ranger in the 4th Ranger Battalion. After Anzio and Cisterna, the 1-3-4 Ranger Battalions were inactivated. Those Rangers lacking sufficient points to be sent home, went into the First Special Service Force (FSSF) that went on into Rome.
On June 1,1944 Ranger Albert Sanders was killed in action. This was weeks after his second cousin, Ranger Owen Sanders lost his life in the same unit. Their great-grandfathers were brothers, and ironically, the Sanders boys, two generations later, lived and died together as 4th Battalion Ranger Brothers. Both went into the FSSF after the disaster at Cisterna, but they were always Rangers at heart.
Below are the contents of the letter Albert's mother received from the FSSF notifying her of his death. During his military career, he was presented with medals for sharp shooting with tank, antitank, rifle, submachine gun, pistol, antiaircraft and machinegun. He was 20 years old at the time of his death.
16 June 1944
My Dear Mrs. Sanders:
The First Special Service Force, under the Fifth Army, has been
active against the Germans on the Italian front. The Third Regiment has taken part in these operations. The initiative and courage of the individual soldier has made it one of the greatest fighting units, with accomplishments beyond all expectations.
It is to this success, and the hope for future success, that you have fallen heir, by having made the supreme sacrifice asked of a family during time of War. To you goes my deepest sympathy and what comfort and consolation may come from knowing your Son was a brave boy. He died the bravest of soldiers. In giving his life for his country, he asked no favors; only a chance to fight our enemy. His courage and bravery have brought credit and honor to his organization and country, and may inspire the greatest of pride and satisfaction in the hearts of his loved ones.
Our countries and people will ever be indebted to those whose sacrifice is never-ending, in the loss of their loved ones. My heart is filled with sorrow. In behalf of your Son's Regiment, comrades, and myself-his Regimental Commander, I extend my deepest sympathy.
Edwin A. Walker, Colonel, 1st Sp Sv Force Commanding
Honored by his niece:
Linda Sanders Sims
February 2003
Ranger Sanders' remains were returned home, where he is buried with family members