Ranger

Charles S. Tolias – 2HQ/A
15-Apr-2003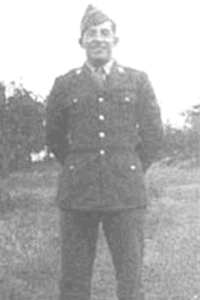 Purple Heart
West Roxbury (MA) - Charles S. Tolias, 80, of Canton, died Tuesday, April 15, 2003, at the Veterans Administration Hospital after a brief illness.  He was the husband of Annie H. "Honey" (Thomas) Tolias.

Born in Lowell, he was raised in Canton, attended Canton schools and was a lifelong resident of the town. He was a decorated member of the Army 2nd Battalion during World War II, where he was awarded the Bronze Star.  Mr. Tolias enlisted in the Army at the age of 20 with intentions of serving on the front line, and stormed the beach at Normandy on D-Day with 550 men in his battalion, half of whom fell at the hands
of the Germans.
 Later, while traveling through Schmidt, Germany, his jeep hit a land mine. The mine blew him 30 feet into the air, resulting in both legs being amputated following a two-year stay in the hospital.

In 1999, Mr. Tolias was honored for his World War II service with a town square dedicated in his name at the corner of Washington and Bolivar streets in Canton.

He was a member of the Disabled American Veterans Chapter 90 in Norwood, the American Legion Post No. 24 in Canton, and the Canton and Quincy Masons.  He was a founding member of the Canton Town Club where he served as treasurer for more than 40 years.

Survivors include his widow; three children, Stephen C. Tolias of
Norwood, Elaine A. Crowley of Norfolk and John C. Tolias of Middleboro; and five grandchildren. He was the brother of the late Soteria Evangelos, Nicholas Tolias and Helen George.
Photo courtesy John Tolias