Ranger

Herman "Herm" Stein – 2F
27-Jun-2012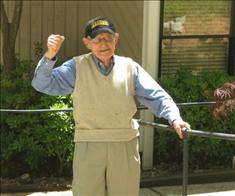 April 23, 1921 - June 27, 2012
Staten Island, NY
Herman Elias Stein, known to all who loved him as "Bubby" was born in Staten Island, NY April 23, 1921. The youngest sibling with two older sisters, he was cherished and bestowed with the term of endearment – Bubby. A few years later his family moved upstate "to the country" to Eastview in northern Westchester county.
Having moved into the country, there were few if any neighbors, only the vast forests and wildlife of thousands of acres of undeveloped land. As he grew up roaming these lands, Herman developed the appreciation, awe, and wonderment of nature and the natural order of things that became his "inner guide" for the rest of his life. The solitary life and skill of natural survival he learned on those lands served well in the coming fascist threat.
It was at Washington Irving High School in Tarrytown, NY that he discovered a love of baseball and became a star agile second baseman with good grades that earned him a scholarship to NYU. But by the end of his freshman year, the Call to Duty came as World War II encroached. Herman volunteered for the Army. While the whole country geared up for the war, after a year of "training and waiting" Bub was more than mildly disenchanted with the regular Army.
The plans for the European invasion necessitated a call for a reformed special operations unit – The Rangers. This rapid deployment, flexible small operational unit with much independence was the type of military Bubby thrived with.
Herman's quick agility enabled him to climb the cliffs at Normandy being the third man up whose mission was to find the German guns that threatened the beachhead. Having survived the climb, he continued in pursuit and found the guns, abandoned by the Nazis.
His unit continued pursuing various missions from Normandy leading all the way through France, Germany and Czechoslovakia. Along the way Staff Sergeant Herman Stein earned several citations and medals including The Distinguished Service Cross for the Battle of Hill 400.
Following WW II, Herman was reunited with the love of his life, his wife Lena Toirac. It was with her that a union of 69 years produced a family of four – Francine, Rob, Debbie, and Cindy.
With the war behind him, Bub embarked on a career in sheet metal fabrication, only to be disappointed by the lack of hard work in a union setting. So he set out on his own and developed a successful roofing business in Metro NY while also building 2 houses with Lena as the designer and sometimes bricklayer to call home for his growing brood. Of course the houses were in wooded settings reminding him of the natural order that he grew up in.
Thirty years of suburban living and having raised their children, wife Lena grew restless for warmer climates and a desire to create yet another beautiful home. Moving to Fort Pierce, Florida, Herman and Lena bought an old home on the Indian River and Lena once again performed her designing magic and Herman supplied the brawn and building know-how. Florida served as a paradise for this mid-life team to entertain and enchant their grandchildren as Bubby once again started his business in a new environment and continued to work until his 80s.
Inspired by the artistic giftedness of Lena, Herman turned his metal work skills into a new hobby of creating beautiful and whimsical copper structures that adorned in many homes and gardens including atop the Ft Pierce municipal gazebo on the waterfront.
Unfortunately one day while trying to trim their prolific mango trees, one of the trees according to Bubby "threw" him out and to the ground. Always the stoic soldier, he managed to crawl back to the house where he laid down in great pain off and on for over a year. Unfortunately x-rays were not taken for many months and as it turned out his hip was broken necessitating a hip replacement.
His medical needs brought him to Atlanta, where after much coaxing, they decided to leave the Florida Hacienda and relocate to Berkeley Lake, GA which gave Lena one more opportunity to work with him to renovate and create yet another beautiful home.
For the last eight years Herman settled into retirement, that is, when Lena allowed him barring any new projects she had for him. He tinkered endlessly in his shop - his very own man-cave, creating his beautiful metal sculptures in addition to fixing common everyday home repairs applying his ingenuity for problem solving, always using whatever scrap parts were around and adapting them for the job. The concept of recycling was nothing new to Bub and Lena, they recycled everything, especially old bent nails.
His last years in GA were as fruitful and full as he always lived. The open door policy welcoming both new and old friends and family continued as always in their GA home. Bub expressed his happiness and contentment in his final years in his Berkeley Lake home. Feeling loved and secure, and being surrounded by his family always, he frequently expressed what a wonderful life he had with no regrets.
Herman was a simple man with simple tastes. His passions included avacadoes, mangoes (only from certain countries with strong opinioned reviews), tomatoes, and entered long blissful states devouring steamed lobsters. Watching him eat was a delight as he enjoyed anything presented to him, never leaving a morsel to waste.
Bub was not a religious man but he lived the golden rule; he did not talk the talk, he walked the walk. Whenever one of his old war buddies passed, he would say they went to "Ranger Heaven." Apparently there was a common belief amongst the Rangers, they had a special corner reserved for them. Bub recently told us his best friend and brother-in-arms Elrod Petty was waiting for him. Bub is now with them.
The example of this fine man to all who came to know him teaches us all how to have a "well-sculpted life."