Ranger

Randall Harris – 1F
19-Feb-2010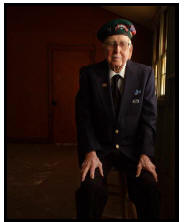 Randall Harris, an educator and much decorated Ranger in World War II, died in Morro Bay, CA on February 19, 2010 at the age of 94, at the home of his daughter and son-in-law Barbara and Michael Coss, where he had been living in recent days.
Harris raised his family in Morro Bay, Paso Robles, and San Luis Obispo and was featured on Ralph Edwards This is Your Life television show in 1958. He was born March 1, 1915 on the family homestead in Goodrich, North Dakota and grew up in Pocahontas, Iowa, the middle child in a family of five. After graduating from high school at the age of 17, he enrolled at Iowa University in Iowa City, taking speech classes to cure his stuttering. He transferred to Buena Vista College after a year, then in 1935 decided to seek his fortune in Los Angeles, where he worked and briefly attended UCLA before an attack of appendicitis sent him back home to Pocahontas.
In 1940 Harris enlisted in the Iowa National Guard and then the Army Corps 34th Infantry Division. He shipped out to Ireland in May 1942. In June he volunteered for Special Forces and as a member of Darby's Rangers, was sent to Achnacarry, Scotland, for training under the British Commandos. Before his service concluded, Harris had participated in five campaigns, six battles and three amphibious landings. He took part in the North African Invasion at Arzew and the Tunisian Campaign. During the invasion of Sicily, July 10, 1943, he took command after his company commander was killed. His "conspicuous and extraordinary courage and leadership" earned him the Distinguished Service Cross and a Battlefield commission from General Patton. He suffered life-threatening wounds in Gela, Sicily, recuperated in North Africa, then hitched a ride to Italy to rejoin his comrades at the front lines at Ceppagna and Venafro where he was again wounded and hospitalized.
On January 22, 1943, as company commander of Fox company, Randall led his men ashore at Anzio where his unit secured the landing zone and advanced farthest inland as support troops poured in. His company repulsed enemy counter-attacks with heavy casualties. He was wounded for the third time, and sent to a hospital in Naples to recover. For his performance at Anzio, he was commended for his "intrepid and self-sacrificing coolness and inspiring performance under fire." By April 1944, less than 200 of the original 2000 Darby's Rangers remained. The rest had been killed or captured.
Harris was one of three Rangers in WWII to earn the Distinguished Service Cross, an honor that also went to Col. William O. Darby. He also earned a Battlefield Commission from Sergeant to 1st Lieutenant for leadership on the battlefield, Bronze Star, Purple Heart with two oak leaf clusters, Infantry Combat Badge, two Unit Citations, and EAME Theater Ribbon with five battle stars. He retired from the Army as a Captain. In 1993, he was inducted into the Ranger Hall of Fame for "uncommon valor and selfless gallantry." For most of his adult life, Harris was active in the Rangers of WWII chapters in California and Iowa, serving as an officer for many years of the Western Chapter Rangers Battalions Association of WWII.
Harris married Dixie Hale in San Diego, California in November 1944. They moved to Morro Bay on the central California coast, where he built seven houses and got two degrees on the GI Bill, a bachelor's degree from Cal Poly, San Luis Obispo, and a master's degree from San Francisco State University. He served briefly as a probation officer before becoming a special education teacher. He earned lifetime teaching credentials in elementary school administration, exceptional children, general elementary credential and general secondary credential. The couple had six children between 1947 and 1964.
In 1958, Harris's WWII exploits and subsequent life as a special education teacher in rural Paso Robles, California, were featured on the television program, This is Your Life, hosted by Ralph Edwards. Harris was appointed director of special education for San Luis Obispo County in 1961 and returned to teaching in 1965. He retired in 1976 after having established the first outdoor education program for special education in San Luis Obispo County; developed the first grants program for summer speech courses; established the first class in San Luis Obispo County for the emotionally handicapped; organized inter-school athletic contests in football, softball and track; and organized a bowling program that sent teams to state tournaments for seven years. After his retirement, he devoted a number of years to developing Camp Harris, a summer camp for children with special needs.
Harris's wife Dixie died in a car accident in 1967. After a brief marriage to Shirley Vandergrift and an attempt to start a ranch in Arroyo Grande where disabled young people could learn independent living skills, he married June Smithwick Turner in 1974. They lived in Morro Bay, bought an RV and did extensive traveling, especially to Alaska and Mexico. June suffered a stroke in 1992 and Randall devoted himself to her recovery. She died in 1993. He married Margaret Page Nemoede in 1997.
Until Margaret's death in November 2000, the couple lived in Cambria and traveled around the world. They were in Hong Kong to observe the British handover and traveled to Australia and New Zealand, and his favorite stomping grounds, Alaska.
A dedicated volunteer, Harris served as Scoutmaster of a Boy Scout Troop in Morro Bay, California during the late 1940s and early 1950s and in the 60s volunteered for Achievement House, Inc. In later life, he was active in the San Luis Obispo branch of Toastmaster's International. He worked with former President Jimmy Carter in Plains, GA as a volunteer for Habitat for Humanity and again in Watts, California where Carter was leading a construction project. In recent years, Harris served as an adviser to Roandoak, a drug rehabilitation center, to raise money and provide jobs for their clients.
Besides traveling, Randall enjoyed fishing, playing pool, attending his grand children's sporting events and working in his workshop on various projects and inventions. In 1998, he fulfilled a lifetime dream by taking flying lessons and equipped his computer with a flight simulator. In 2002, at the age of 87, he went skydiving for the first time. When he repeated this experience at a national Ranger conference in 2003, a colonel in the Rangers gave him his own wings from Vietnam. In 2004, at the age of 89, he went salmon fishing in Alaska, and caught his limit. In 2005, nearly 200 family and friends gathered at the Madonna Inn in San Luis Obispo to celebrate his 90th birthday.
Harris is survived by six children: Martha Harris, Dorothy Melia, Dixie Cavigli, James Randall Harris, Howard Andre Harris, and Barbara Coss; eleven grandchildren: Craig Melia, Carrie Melia Daly, Randy Cavigli, Amy Cavigli, Rebekah Coss, Jonathan Coss, David Coss, Kenneth Harris, Heidi Estes, Ginny Harris, Esther Harris; and two great-grandchildren: Ryann and Evan Daly.
There will be a private family memorial service. Memorial donations may be made to HABITAT FOR HUMANITY for SAN LUIS OBISPO COUNTY, P.O. Box 613, San Luis Obispo, CA 93406.