Ranger

Joseph J. Gryniuk – 1st Ranger Battalion
2-Mar-2014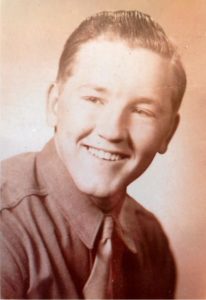 Torrington, CT - Joseph J. Gryniuk, Sr., 90, of Hickory Road, passed into the arms of his loving Savior, Sunday, March 2, 2014, at Charlotte Hungerford Hospital. He was the beloved husband of fifty-eight years of Frances B. (Arnista) Gryniuk.
Mr. Gryniuk was born in Harwinton on August 1, 1923 son of the late Anna Miniuk and was a lifelong Torrington resident. He was a proud WWII U.S. Army Veteran and was a member of The First Special Service Force, which was the first unit to march into Rome during its liberation. Joe's unit is now in the process of being awarded the Congressional Gold Medal for their service during that campaign. During the years following WWII, Joe and his wife Frances attended many annual reunions, including his 66th . They visited Italy and France with the FSSF Association, on both its 40th and 50th Anniversaries, visiting battlefields and cemeteries of fallen soldiers. He was a past State Commander of the Polish Legion of American Veterans, a member of the State VFW and more recently served as Honorary Parade Marshall of the Torrington Memorial Day Parade.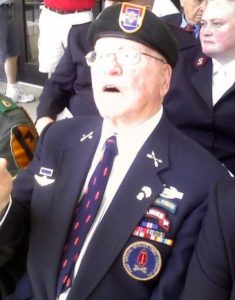 Very devout to his Catholic faith, Joe was a lifelong active communicant of St. Mary Church and was a former member of the Parish Council, a Lector and was honored to have been blessed by three Popes. He was a member of the Eastwood's Country Club Retiree Golf League, an avid Boston Red Sox fan, and enjoyed traveling, woodworking and gardening. Proud of his Polish ancestry, he upheld many Polish customs and traditions. He was a former member of the Torrington Lodge of Elks.
Survivors in addition to his wife include two sons; Joseph J. Gryniuk, Jr. and his wife, Debbie, of Tacoma, WA and Jonathan Gryniuk and his wife, Tina, of Castle Rock, CO, two daughters; Francine Gryniuk of Torrington and Kathleen Weinstein of Great Barrington, MA, eight grandchildren; Matthew Hughes, Daniel Hughes, Joseph Gryniuk, III, Tony Casper, Evan Casper, Joshua Weinstein, Bessie Gryniuk and Mary Gryniuk and many nieces and nephews. Mr. Gryniuk was predeceased by two brothers; John Gryniuk and Stanley Gryniuk and two sisters; Josephine and Helen.
Funeral services will be held Saturday, March 8, 2014, at 11:30a.m., from Gleeson-Ryan Funeral Home, 258 Prospect Street, Torrington to St. Mary Church, 85 Pulaski Street, Torrington, for a Mass of Christian Burial at 12:30p.m. Burial with full military honors will follow in St. Peter Cemetery, Torrington. Friends may call Friday, March 7, 2014, from 5:00p.m. to 8:00p.m. at Gleeson-Ryan Funeral Home.
Memorial contributions may be made to St. Mary Church, c/o The Pope John Paul II Pastoral Center, 160 Main Street, Torrington, CT 06790 or to Sacred Heart High School, 142 S. Elm Street, Waterbury, CT 06706.