Ranger

Lawrence "Red" Gilbert – 1F
13-Oct-2012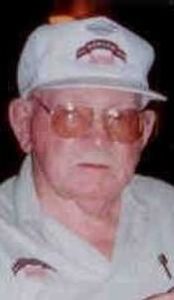 Milton, NH
Lawrence R. Lawrence R. Gilbert "Red", age 91, of Hare Road in Milton, died October 13, 2012 at home.
Born April 13, 1921 and raised in Farmington, son of Wilfred and Vera (Remick) Gilbert, he resided there until 1973, from 1973-1981 at Ayers Lake in Barrington, from 1981-2006 in Northport, Florida and resided in Milton since 2006.
A Veteran of the United States Army, a Ranger, he served during World War II and in Korea. A Prisoner Of War, he was recipient of a Bronze Star, also 3 Humanitarian Service Medals, Army Commendation Medal and 2nd Combat Infantry Badge.
Red was a member of the VFW, the American Legion, the DAV, Descendants of WWII Rangers, American Ex-POW, Combat Infantrymen's Association and the NRA.
He was a retired lineman, a civil service employee at the former Pease Air Force Base and retired from the Army National Guard after 31 years.
Widower of the late Elizabeth Gilbert who died in 1993, he resided with his grandson Jim Thomas and wife Debra for over 19 years, also survived by a daughter Bette (Thomas) Howard of Rochester, many grandchildren, great grandchildren and great great grandchildren, also a brother Everett Gilbert of New Mexico. He was predeceased by 2 sons: Robert Stewart and Joseph Thomas, a daughter: Barbara (Stewart) Lachance and a sister Phyllis Gilbert Carlson.
A Memorial Service will be held on Wednesday October 24, 2012 at 1:00pm with a calling hour one hour prior from 12-1pm at Peaslee Funeral Home, 24 Central Street, Farmington, NH 03835, with military honors provided by the United States Army. Urn interment will be at the American Legion Lot at Pine Grove Cemetery in Farmington. In lieu of flowers, memorial donations may be made in his memory to: Descendants of the World War II Rangers C/O Ben Temkin 80-35 Springfield BLVD, Queens Village, NY 11427. To express condolences, please visit: www.peasleefuneralhome.com