Ranger

James W. Eikner – 2HQ
1-May-2014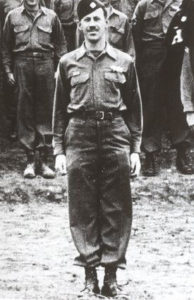 James W. Eikner was born on a date that would later live in infamy and died Thursday, May Day. In between he helped liberate Europe, free prisoners in Nazi concentration camps and set up communications equipment at Lyndon B. Johnson's Hill Country homes. He was 100.
Born Dec. 7, 1913, in Aberdeen, Miss., Eikner attended Blackburn College, then a two-year institution in Carlinville, Ill. During the Depression he became a journeyman for Bell Telephone all over Texas.
"He was a telephone installer and climbed poles and learned from the ground up," said his son, Jim.
His draft number came up but the Army wouldn't take him because of bad teeth, he told the American-Statesman in 1998. After Pearl Harbor, the Army changed its mind and Eikner volunteered for a Rangers battalion (the modern equivalent of Special Forces). After the war he was active in veterans' and military history groups for the rest of his life.
He was among the more than 130,000 allied troops to storm the Normandy coast on June 6, 1944, D-Day, and served out the war, helping to liberate a Czech concentration camp, his son said.
"I think the seminal event in his life is D-Day," Jim Eikner said. "One thing he shied away from was he had a hard time talking about the freeing of the concentration camps."
Decades after the war, one of Eikner's work duties was to help wire President Johnson's ranches. "Johnson had ranches all over the Hill Country and they all had to be wired up with secure communications and national defense stuff," Jim Eikner said. "Given the time and the technology, they had to do a lot of work out there. He was then transferred from Waco, where he was district engineer, to Austin."
After growing up in the South during the Depression and serving in the war, Eikner was determined to have a have an almost stereotypical, "Leave it to Beaver"-type existence.
"Literally, we had the two-car garages and suburban homes," Jim Eikner said. "That's what was important for him."
Eikner's wife, Kathleen, died in 2008. In addition to son Jim and daughter-in-law Karen, he is survived by one grandson, Jason, of Austin.
The family plans a private service, although a more public memorial may be held at a later time. Jim Eikner requested memorial contributions may be made to Hospice Austin.
Obituary from the Austin American-Statesman